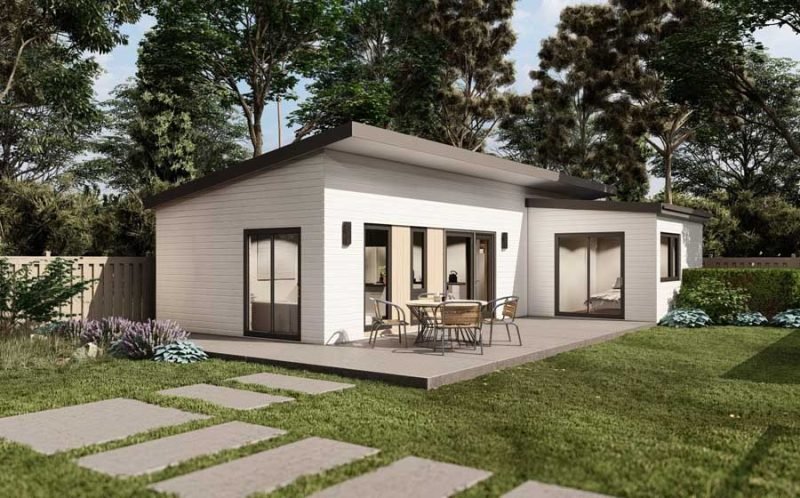 Building an Accessory Dwelling Unit (ADU) is a great way to add extra space and value to your home, but it might be daunting to estimate the cost of such a project. We've all heard stories about people trying their hand at do-it-yourself projects, thinking they're slashing costs only to find themselves neck-deep in expenses. Whether you are looking into finding the right accessory dwelling unit builder or doing it yourself, this guide will answer some basic questions and help you set a realistic budget while still enjoying the freedom of being your own general contractor. So clear out that spare bedroom, throw on some overalls and get ready for one wild ride; it's time to figure out how much it costs to build an ADU.
Size
Building an Accessory Dwelling Unit (ADU) is like finding the most stylish outfit in your closet for the lowest price. You know you need it, and you can't be cheap on quality, but you also don't want to shell out a huge amount of money. So first, you need to decide what size is going to work best for your needs—it all depends on how many bedrooms and bathrooms you want, whether you want an entire kitchen space, etc. This can be tricky because while you don't want a house that is too big and expensive, building one that is too small means missing out on many great features. Thankfully there are lots of creative cost-cutting options that can give you all the amenities at a fraction of the cost!
Type
A variety of ADUs, from attached units, standalones, garage conversions, and basement renovations, can provide the perfect solution for any budget. Detached new constructions atop a garage typically cost as little as $150 per square foot. At the same time, upmarket detached projects come in around $300 – but there are plenty of other options, too, with different price brackets depending on what you choose.
Design Cost
Building an Accessory Dwelling Unit (ADU) is like a de-facto update for your home; you could add more space and style to your living arrangement. Unfortunately, the cost of constructing an ADU isn't as easy as waving your magic wand; it requires serious deliberation and budgeting. On average, design costs are generally between 8-12% of the total construction costs. This can range significantly depending on the complexity of designs, permitting requirements, and any additional work needed to be done by professionals. So before you start investing in building an ADU and turning your humble abode into a "luxury bachelor pad" or "family delight," it pays to consider the full costs that come with creating that masterpiece.
Material
There are several factors that will influence the cost of an ADU, including the type of materials used and the time you commit to tackling the construction yourself. If budget is top-of-mind when building your ADU, then you may want to try to cut costs with some thrifty finds in second-hand stores or by bartering for materials. On the other hand, if you're looking for a project that has luxurious materials and finishes, then be prepared to spring a little more cheddar for those kinds of high-end touches. So go ahead and give yourself permission to build that ADU without breaking the budget – just keep in mind that many dime-saving decisions will have to be made in order to stay within your means.
Foundation
If you're looking to add an Accessory Dwelling Unit (ADU) to your property, the cost of a concrete foundation may be one factor in determining how much it will set you back. Though prices can range significantly – from $4-$25 per square foot – most standard-sized ADUs come with relatively reasonable price tags of between $2,400 and $30,000. If the budget is particularly tight or if yours is a garage conversion or basement ADU, foundations might not even be necessary; however, for the above-garage options, additional structural support may need to be factored into costs.
When you add an ADU to your property, you are also adding long-term value. Because of this, many homeowners choose to finance their projects with a home equity loan or line of credit. If you are considering building an ADU, it is important to factor in all the potential costs so that you can make the best decision for your family and your budget. We hope this article has given you a better understanding of how much it might cost to build an ADU on your property.