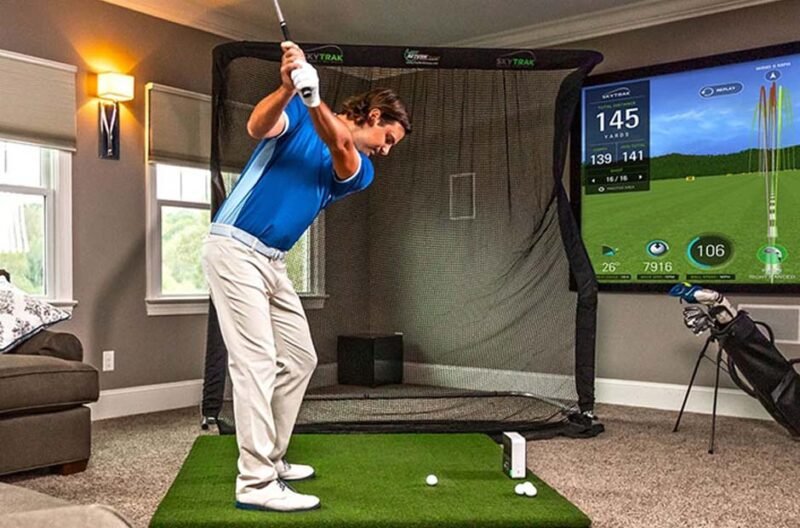 Are you missing the physical sensation of teeing off or experiencing frustration at a bad shot? Golfers everywhere are having trouble connecting with their beloved game in the absence of courses open to the public.
But virtual golf has emerged as an accessible alternative that allows fans to unleash their frustrations and celebrate successes from the comfort of their own homes!
Read on for our comprehensive guide on how you can stay connected to your favorite sport while gaining access to numerous unique benefits!
Differences between traditional and virtual golfing
Traditional golfing and virtual golfing are two very different experiences, each with its own unique charm. Traditional golf takes place on a lush, sprawling course with fresh air and gorgeous views all around.
It's a physical sport that requires a great deal of skill, strength, and focus, and the satisfaction of hitting a perfect shot is unmatched. Virtual golfing, on the other hand, offers the convenience of playing from home with all the excitement of a real game.
With advanced technology, players can experience a wide range of courses and conditions without ever leaving their living room. Both styles of golfing have their own appeal, but whichever you choose, it's clear that golf truly is a timeless and beloved sport.
Benefits of virtual golf from convenience to cost savings
Virtual golf has proven to offer practical benefits for enthusiasts of the sport. One of the most notable advantages is convenience. With virtual golf, players have the liberty to practice their swings at any time and any place without worrying about weather conditions or travel time.
Additionally, virtual golf boasts cost savings. Unlike traditional courses that require expensive memberships and green fees, virtual golf only requires a single investment in simulator equipment.
This enables players to save money on transportation, rental equipment, and other expenses that come with playing on a physical course. As more and more people turn to virtual golf, it's evident that this trend is here to stay.
How virtual golf can be a great way to practice for actual courses in an immersive setting
Looking to level up your golf game? Virtual golf might just be the secret weapon you're looking for. With advancements in technology, indoor home golf simulator setups have become more affordable and accessible for the average golfer.
Not only is virtual golf a fun way to pass the time, but it can also serve as a practical tool for improving your swing and preparing for real-life courses. The immersive setting allows for a more realistic experience, complete with accurate ball flight and club data.
With a variety of courses to choose from, virtual golf provides the opportunity to practice in different conditions and terrains that you might not have access to in real life. Give it a try and see how it can take your game to the next level.
Going over the basics of getting started with virtual golf from purchasing equipment to researching courses
Have you been wanting to get into virtual golf but don't quite know where to start? Getting started with virtual golf is simpler than you may think. First and foremost, you'll need the proper equipment, such as a high-quality simulator or launch monitor.
From there, it's all about researching courses that fit your skill level and interests. There are a plethora of options, ranging from famous real-life courses to fantasy settings.
Don't worry if you're new to the game, many virtual golf platforms offer tutorials and training exercises to help you improve your swings.
Tips on how to stay engaged while playing virtual golf, such as playing against friends online or participating in tournaments
Virtual golfing has become increasingly popular in recent times, allowing players to enjoy their favorite sport from the comfort of their own homes. To stay engaged while virtual golfing, there are various tips that could enhance your experience.
One way is to play against friends online. This not only adds a social aspect to your game, but it also allows you to create rivalries and friendly competitions to keep things interesting.
Another way to stay engaged is by participating in tournaments. These can be found online and usually have exciting prizes, giving you something to look forward to and motivating you to keep playing.
By incorporating these tips into your virtual golfing routine, you can keep your passion for the sport alive and continue to have a great time while playing.
Now that you know the ins and outs of virtual golf, why not give it a try? Find out for yourself how immersive this gaming experience can be, and enjoy all the joys that come with hitting that perfect shot down a beautiful fairway.