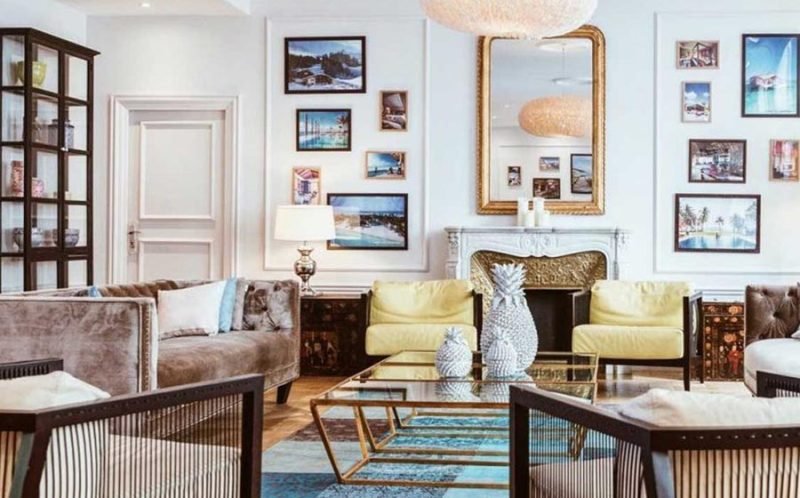 When planning to decorate your home, especially interiors, multiple essential aspects need to be taken into consideration. For example, you can begin with choosing the color scheme, style, ornaments, accessories, furniture, etc. However, one thing that requires a considerable amount of attention to make your home appear unique and exciting is its wall decor.
Though there are so many options to decorate your wall, such as picture frames, artwork, plants, shelves, etc., have you ever thought of giving a chance to a vintage-style decor to beautify your wall area? Here are four tips that will guide you on how you can incorporate a vintage touch into your wall decor by adding a few steps to the process.
Stick vintage photos on the wall.
To make your wall appear straight from the '70s, consider hanging picture frames of vintage images like old cars, buildings, artworks, etc. You can even add antique frames to these pictures. Various old vintage frames are available in the market to choose from. Paint them in gold or rusty hues to give them an authentic vintage look. Even without adding any picture to the frame, they will appear beautiful and elegant on your wall.
Use Photo Books and Shelving
Photo books can add a huge vintage feel to your wall, especially if you make sure that the cover art and spine design are in line with good home décor principles. They make for a great interactive decoration because you can effectively reach up and bring them down whenever you want. You can flick through your photo books or guests can have a look through them to relive old memories and while they're not being used they can act as great vintage ornamentation. Just be sure to purchase a sturdy shelf, especially if you have a large photo album or photo book collection.
Mount old plates on the wall.
The best way to give a vintage look to your walls is to mount old plates of different sizes on them. Paint the plates in solid colors or patterns of your choice and show off your collection on the wall. You can even buy china plates from your local market that are available in various designs and patterns. This will make your space look more personalized, unique, and interesting to look at.
Vintage Wall Art
One of the key elements of vintage wall art is incorporating vintage elements, such as vintage posters, old maps, or vintage canvases.
These elements can be used to create a variety of designs, from minimalistic to extravagant, depending on your preference and the style of your space. Vintage posters, for example, can be used to create a retro-inspired look, while old maps can add a touch of history and character to a room. Vintage photographs, on the other hand, can be used to create a more personal and sentimental look. Also, stained wood american flag diy has always been insanely popular and patriotic with American home decor.
Another way to incorporate vintage elements into your wall art is by using vintage or reclaimed materials. For example, using reclaimed wood or metal to create a vintage-inspired sign or wall hanging can add a rustic and authentic feel to your space.
Vintage or reclaimed materials can also be used to create a unique and one-of-a-kind piece of wall art that is sure to be a conversation starter.
Designing custom vintage wall art is another great way to create a unique and personalized piece that perfectly suits your space. Whether you're looking to create a statement piece for a living room or a focal point for a commercial space, custom vintage wall art can be designed to fit any size and style. You can use a variety of materials, such as metal, glass, and acrylic, to create a custom piece that fits your space and style perfectly.
Add an old book cover.
Adding a classic, old book cover to your wall is another great way to make your wall feel vintage. You can nicely frame it in an antique frame and hang multiple of them on the wall. Furthermore, you can also consider sticking cut-out pieces from old newspapers or magazines to make the area appealing, where you can stand for long reading the old news or book descriptions while passing by.
Mount vintage lights and mirrors.
Similar to antique picture frames, many vintage mirror frames are also an excellent choice to give your wall and house an old-fashioned vibe. Mirror frames painted in gold, grey, or silver are some good options to go for. Consider paring the mirrors with old-style lamps to enhance the beauty of your wall. Add a vintage wallpaper or texture to the wall before hanging the mirrors to give it an improved old-fashioned feel.
Other vintage decor items.
Many other vintage decor items, such as a large old-style clock, can be added to the wall to give it an appealing, vintage appearance. You can also add shelves, wooden frames, baskets, old signboards, window frames with shutters, mounted post lamps, etc., for a more authentic vintage feel.
We'd love to hear your ideas for vintage wall decor in the comments section below.