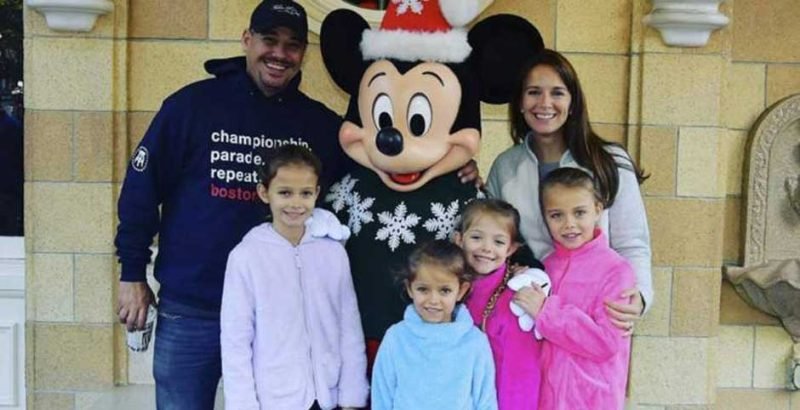 Adelina Rose Mariano, the celebrity kid has been enjoying fame and popularity since her birth all thanks to her famous parents. She is the fourth child of Robert Carlo Mariano and Amber Joy Mariano who is widely known for appearing in the CBS reality show, Survivor.
Adelina Rose Mariano's Family
Adelina Rose Mariano, born on 20th June 2014, is the daughter of Rob and Amber Mariano. Her father, Robert Carlo Mariano (nickname) Boston Rob, was born on December 25, 1975, in Boston, Massachusetts, USA. He is of Italian descent. Her mother Amber Joy Mariano (Birth name Amber Joy Brkich) was born on August 11, 1978, in Pennsylvania, USA. She is of Croatian and Albanian descent on her paternal side.
Both of Adelina's parents are American television personalities, widely known for appearing in several reality shows, including 'Survivor,' and 'The Amazing Race.'  Rob and Amber met on CBS' Survivor: All-Stars in 2003. They dated for two years. And finally, on  April 16, 2005, the reality twosome, fondly known as "Romber" got married, at Atlantis Paradise Island in The Bahamas. CBS aired a two-hour special and telecasted the wedding, entitled "Rob and Amber Get Married."
Adelina has three elder sisters, named Lucia Rose (born July 4, 2009), Carina Rose (born December 10, 2010), and Isabetta Rose (born May 5, 2012). All four kids and enjoying their extravagant life.
Adelina Rose Mariano's Career and Net Worth
Adelina is still a child and is focussing on her studies along with her sisters. They definitely will have a wonderful career ahead.
Amber Mariano first appeared in the reality show Survivor's second season, 'Survivor: The Australian Outback', where she got 6th  rank and  Rob first appeared in the fourth season of the show 'Survivor: Marquesas', and backed the 10th position. They together appeared in the show's 8th season 'Survivor: All-Stars,' wherein Amber was declared the winner and won a $1,000,000 prize and Rob was the runner-up. It was in this season that Rob proposed to Amber before the final voting, and she accepted it without any hesitation.
Rob again participated in the show's 20th season, where he got 13th place. And finally won the show's 22nd season 'Survivor: Redemption Island.' He returned for the show's 39th season as a mentor for the new players. He along with his wife came together in the show's 40th season 'Survivor: Winners at War', and got 17th and 20th place respectively. He is the first 'Survivor' contestant to appear 6 times and play 5 times. He also competed on 'The Amazing Race' twice alongside his wife, where they were placed 2nd and 8th. In addition, the couple starred in the 10-episode reality show 'Rob and Amber: Against the Odds' in 2007.
Adelina Rose Mariano's Net Worth
In 2004, Maxim ranked Amber as the 50th most beautiful woman in the world. According to celebrity net worth, she has a net worth of $1.5 million and Rob's net worth is $2 million.