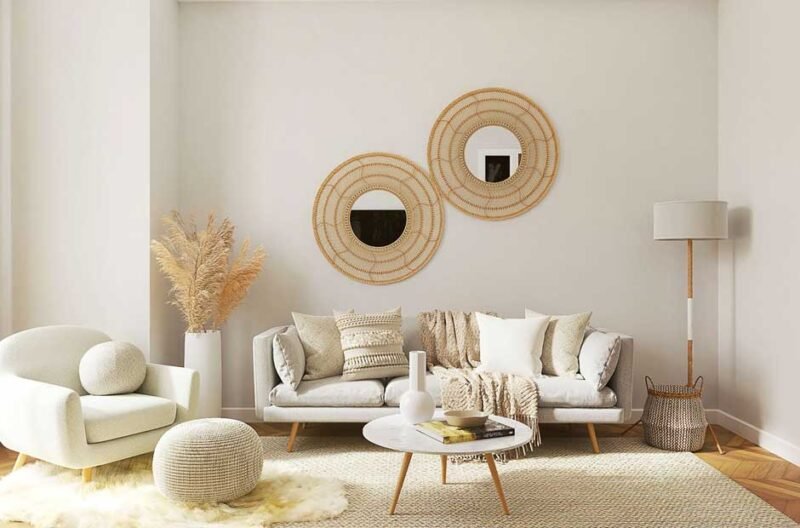 Arguably, the living room has the most potential for individuality and flair compared to any other room in the home. The design of every other space will be restricted to varying extents based on its purpose. A bedroom will need a bed, the kitchen will need appliances, and the bathroom must have facilities, but the living room is open to interpretation. If you feel that you haven't fully expressed your creativity in the rest of your home, at least you can elevate the living room with total freedom. Here are some ideas to inspire you.
Be Creative with Paint
Too many homes have uninteresting painted walls. The same tones and design choices are repeated endlessly until the next trend comes along, and everyone redecorates to fit in. One of the simplest yet most impactful ways to elevate your living room is to make a bold choice with paint. For example, choose a deep hue and cover everything from trim to ceiling with it. Stray from the path by looking for paint that matches your own taste rather than those found in magazines or online. Let your individualism guide your choices, and you will have a timeless, personal living room that defies expectations.
Take Time to Collect Your Furniture and Decor
When redecorating, some people can be tempted to buy all their furniture and decor at once. This leads to a space that looks too rushed and matching. Instead, collect pieces you love over a longer period of time and tend your living room like a living organism. It doesn't need to be perfect immediately.
Create Visual Interest with Unique Pieces
Even if you prefer a simpler, cleaner look, your living room can still be elegantly elevated. The best way to achieve this is to find a unique focal point for the space. An example of a classic feature could be a beautiful log burner by Ignite+ Fires. This type of feature is not only visually attractive but also practical and comforting. Think about what type of unique piece could make your living room feel complete.
Understand the Art of Lighting
Good lighting should create the desired mood in your living room. Rarely does a single overhead light achieve this successfully. Opt for a few lamps of different sizes and place them strategically around the room.
Don't Make It Too Stagey
Part of the joy of a living room is its purpose. Living isn't always neat and tidy, so don't worry about making sure your throw is always perfectly yet casually draped across the ottoman or that a vase of flowers neatly stacks your books. Simply living in the space will breathe life into it, so don't worry too much about staging every minor detail. This will enhance the authenticity of the room, elevating it further.
Living rooms are intended to be spaces for relaxing, talking, playing, and recovering from the stresses of the day. Allow your design choices to reflect the unburdened nature of the space by breaking the rules and creating a room you love to spend time in.